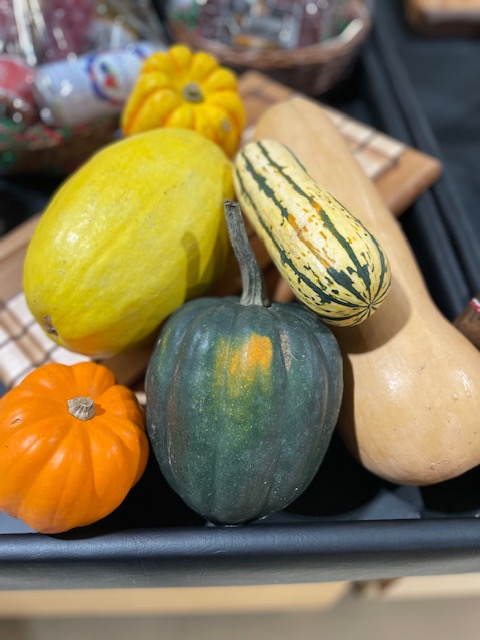 Serve them hot, serve them cold, serve in a salad …serve them bold! Yes, squash is one of our most beloved items at YFM and for good reason—they are locally sourced, as fresh as can be and we carry eight varieties, including four speciality types.
So, if you have ever wondered about why you should take the plunge with squash, wonder no more. Learn about all of our growers' unique squashes and how you can incorporate them into dishes or eat as is!
Butternut: Officially a winter squash, the butternut variety has its distinctive pale orange exterior and vibrant orange interior. Full of alpha- and beta-carotene, butternut squash is a superfood all on its own, but it's often best enjoyed roasted in cubes or halves. It can be an easy addition to a salad or it could be processed and served as a hummus alternative.
Buttercup: If you've ever looked at a buttercup squash and thought it would make a better decoration than a food item, you can be forgiven. However, we won't let you off the hook if you don't at least try this stout squash. With a sweet taste, it is the perfect alternative for a soup base and performs well when steamed. High in vitamin C and loaded with antioxidants, a buttercup squash also has a long lifespan—up to six months! Try it today, or next month. It will keep, we promise!
Acorn/Pepper: Perhaps one of the most popular members of the squash family, acorn squash has always been a favourite when baked and eaten hot out of the oven with a spoon and a dash of brown sugar. Known and loved for its unique nutty flavour profile, the acorn variety is loaded with both soluble and insoluble fibre, as well as 20-plus per cent of your daily recommended intake for B1, B6, Magnesium, Potassium and Manganese (based on one cups' worth).
Spaghetti: The naming of this squash is for good reason. Once cooked, its meat flakes off effortlessly with a fork, resembling a fresh plate of spaghetti. Enjoyed with or without a sauce, reduction or dressing, the spaghetti squash is impressive in its size and is more than enough food for two adults. Per cup, spaghetti squash is low on both the carb count (just 10 grams in one cup!) and fat (0.4 grams). Indulge guilt-free in this wonderfully delicious squash.
White Swan (specialty): Distinct in its colour and diminutive in size, the white swan squash is a popular item at YFM. Easily prepared and enjoyed in a range of dishes—from savoury to sweet—the mouth feel is smooth and inviting with nutty notes sure to please the seasoned foodie. Like many squashes, the white swan is chalk full of vitamin B6, C and fibre.
Delicata (specialty): With its distinctive green stripes and cylindrical orange-yellow body, the delicata sounds exotic and it tastes just as yummy. Unlike most squash varieties, the flesh of the delicata is edible. Many people enjoy this squash baked and stuffed with anything from cheese and mushrooms to chicken and herbs inside. Gluten-free and virtually fat-free, the delicata squash is calling your name!
Honeynut Buttercup (specialty): One of, if not the most, distinctive squashes around, the honeynut may be small, but it packs a punch. Generally bell shaped in nature, honeynuts are said to be 10 times sweeter than a traditional butternut squash. Often the best results come from an oven bake, but this squash can actually be microwaved warm and enjoyed just as well, making it a perfect option for an on-the-go lifestyle. With an edible flesh like a delicata, the insides are orange and contain approximately double the vitamin A of a butternut.
Celebration (specialty): Like no other squash in appearance, the celebration is a blast of shimmering orange stripes and speckles alongside sun-clad yellow. Others boast deep greens often in place of the yellow and it is sometimes used as an ornamental. Either way, the celebration squash, also known as a carnival squash, it's deliciously sweet no matter what you call it. With the beloved nutty flavour of many squash, the celebration is just that, a gala of gourmet eating without breaking the bank. For best results, bake in the oven or slow cooker and serve it alongside any seasonal meat on a chilly day.